Well being that the Fourth of July is just a few days away and that the weekend is coming up, I thought I would do a special round-up for all your exciting parties and gatherings. Here are 10 recipes you can whip-up to impress your guests and family by keeping the fun theme of red, white, and blue!
1. Strawberry Blueberry Poke Cake
This fantastic cake uses fresh fruit and jello to create a delicious, yet healthy dessert to serve at your get-together. Find the recipe
here
.
2. Strawberry, Blueberry, Jicama Salsa
This is a great choice as the flavor combination is delightful with the sweet berries and crunchy jicama, & a little heat (optional). Plus
this recipe
is easy, quick, and a great appetizer. Serve with baked chips or go to the extent of making some cinnamon sugar covered ones, yum!
3. American Flag Toast:
Recreate the American flag with your toast using
this
is a fun and kid-friendly treat for breakfast or an afternoon snack as its sure to be filling, healthy, and you probably already have most of the ingredients.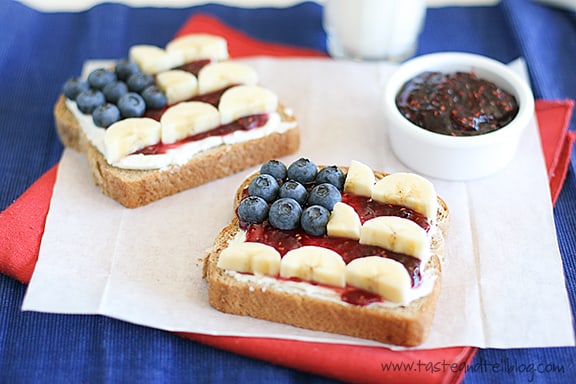 4. Red, White, and Blueberry Truffle
Who could possibly resist this incredible trifle made with summer fresh blueberries and strawberries, decadent white chocolate pudding, airy angle food cake and some cream. This just happens to be a healthy dessert indulgence, so feel guiltless as your feed your guests this beautiful
mixed berry trifle
dessert.
5. Berry Waffles
What a fun breakfast or brunch get-together by serving some delicious and a big favorite, waffles! Set up an assembling and allow guests to top with their favorites. Although using some fresh strawberries and blueberries, yogurt or for a more decadent choice, whip cream, you have created a fun 4th of July treat! Recipe spotted
here
.
6. Patriotic Fruit Skewers
This is a perfect fresh and cool summer appetizer to serve to guest by simple cutting and skewing on some juicy watermelon, honey dew, jicama, or a banana even, strawberry or raspberries, and a sweet little blueberry to top of the red,white, and blue colors that so proudly represent our country.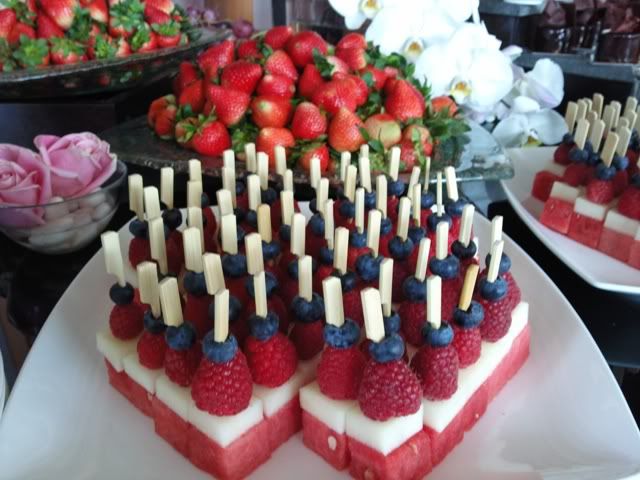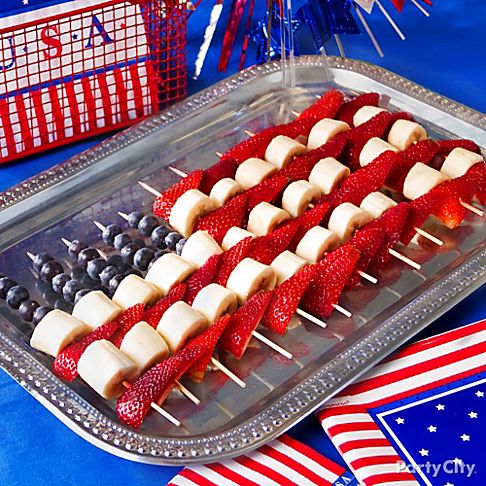 7. Red, White, and Blue Yellow Cake Pie with Chocolate Mousse
Impress you guests with this heavenly treat combining all your favorites into one patriotic dessert. Recipe found
here.
8. Berry Cheesecake Pops
Create these perfect pops for those hot summer days by using
this recipe
or substituting the cream cheese for some
Greek yogurt
and any berries your heart so ever desires. The kids will surely love this treat, but I am sure adults too would love a guilt-free cool treat after that rico BBQ.
9. Frozen Banana Pops
Or you can simply make these for a special treat to serve by dipping bananas in chocolate and coating them in red, white, and blue sprinkles to rest in the freezer until ready to eat. Healthy, perfect indulgence, and a fun treat that any banana lover would enjoy. Check out the recipe
here
.
10. Patriotic Rice Crispie Treats
Wow your guests with these super fun treats with just a few ingredients and easy steps you can create a Fourth of July snack that every kid loves, and you would be surprised how many of your friends too would grab one of these tasty little guys too. Recipe tutorial
here
.
11. Fun & Free Forth of July Printables
Go over the top with these great &
free printables
. to wow all your guests with your creativity and festive party. From invitations to labels you can decorate your get-together with perfect pairings to your special 4th of July Treats and even create to-go bags for your guests to fill extra special.
Have a blessed weekend and may you enjoy some quality time with your friends and family!