I've always loved Christmas-- its jolly & cheerfulness, the gift-giving, & family traditions. During all the Christmas shopping, holiday baking, & seasons greetings, its often easily forgotten that this very special celebration is to remember what actually should be the most important thing in our lives in any season, the birth of our Savior. But when the world bombards you with Santa Claus, elves, snowmen, and trees, it becomes a whirlwind of excitement and the true meaning gets put on the back burner. But when did Santa become more important than Jesus, why is he even apart of this holiday & steals all the glory from our Savior...?
Santa Claus surprisingly has a long history, yet at the same time we hardly know anything about him... yes we know of all the story book tales, but he in actually stemmed from a real person, Saint Nicholas. This man a Greek from the 4th century and had inherited a great deal of money from his parents who had
unfortunately
passed, but a good man as he was, he decided not to keep any of it for himself, but rather gift is as gifts. There are various stories of him tossing bags full of gold to those in need or placing coins in the shoes of children as they left their shoes outside. These accounts indeed demonstrates the beginning of Nicholas' miracles which he later became known as the "wonder-worker". He then was selected as Bishop by the Maya people, but actually imprisoned for his Christian beliefs. Once he was released, he still encountered great persecution, but beacuase of his kindness, dedication, and steadfast love for the Lord, he was highly esteemed & honored for his service, having hundreds of churches dedicated to him & his works. A Greek had wrote
"The West as well as the East acclaims and glorifies him. Wherever there are people, his name is revered and churches are built in his honor. All Christians reverence his memory and call upon his protection."
His legend reached many countries, but as the Reformation continued, only Holland had really continued this

legend,

calling him Sinterklass. And eventually in other arts of the world, was replaced as the bearer of gifts, such as the Christ Child by Martin Luther, or Germany as Christkindl. Then over the years, they began to pronounce it as Kriss Kringle. And eventually is now considered the iconic Christmas representation under the name Santa Claus. And so there you have it a brief history on the man who wears a red suit & rides in a sleigh is an exaggerated figure from history who made a difference as a Christian & ultimately will be remembered and is honored in many different ways.
But even with this knowlege, just as St. Nick celebrated Jesus with his life, we too should remember the "reason for the season", so this Christmas, lets celebrate the true & perfect purpose of Christmas primarily, Jesus Christ, and allow all the other joyful & seasonal things to follow behind.
Here is a passage of Jesus' birth, Luke 2:1-20.
2

In those days Caesar Augustus issued a decree that a census should be taken of the entire Roman world.
2 (This was the first census that took place while[a] Quirinius was governor of Syria.)
3 And everyone went to their own town to register.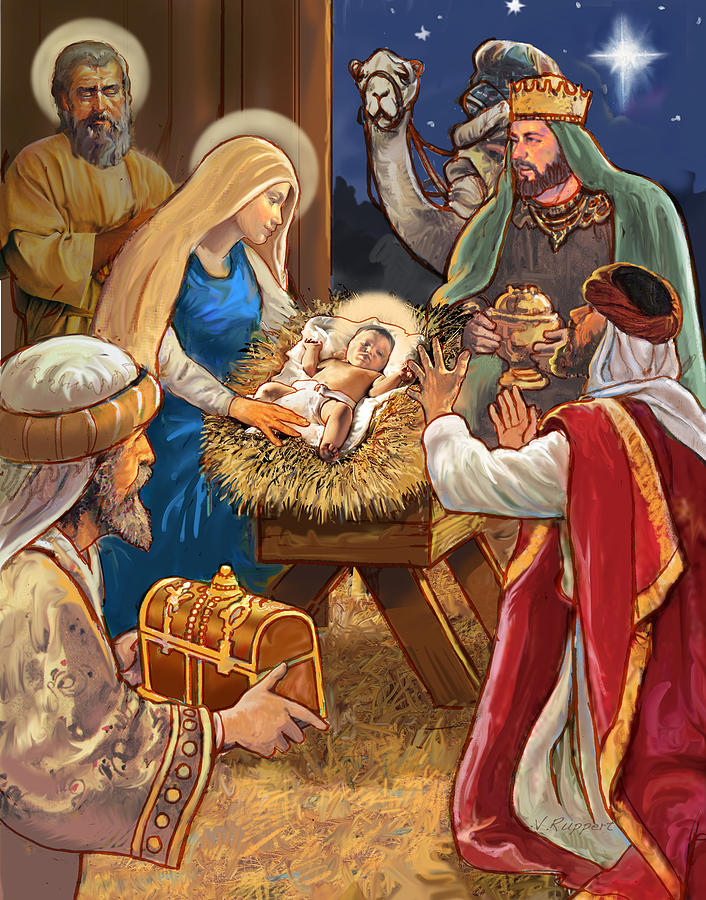 4 So Joseph also went up from the town of Nazareth in Galilee to Judea, to Bethlehem the town of David, because he belonged to the house and line of David.
5 He went there to register with Mary, who was pledged to be married to him and was expecting a child.
6 While they were there, the time came for the baby to be born,
7 and she gave birth to her firstborn, a son. She wrapped him in cloths and placed him in a manger, because there was no guest room available for them.
8 And there were shepherds living out in the fields nearby, keeping watch over their flocks at night.9 An angel of the Lord appeared to them, and the glory of the Lord shone around them, and they were terrified. 10 But the angel said to them, "Do not be afraid. I bring you good news that will cause great joy for all the people. 11 Today in the town of David a Savior has been born to you; he is the Messiah,the Lord. 12 This will be a sign to you: You will find a baby wrapped in cloths and lying in a manger."
13 Suddenly a great company of the heavenly host
appeared with the angel, praising God and saying,
14 "Glory to God in the highest heaven,
and on earth peace to those on whom his favor rests."
15
When the angels had left them and gone into heaven, the shepherds said to one another, "Let's go to Bethlehem and see this thing that has happened, which the Lord has told us about."
16 So they hurried off and found Mary and Joseph, and the baby, who was lying in the manger.17 When they had seen him, they spread the word concerning what had been told them about this child, 18 and all who heard it were amazed at what the shepherds said to them. 19 But Mary treasured up all these things and pondered them in her heart. 20 The shepherds returned, glorifying and praising God for all the things they had heard and seen, which were just as they had been told.
MERRY CHRISTMAS & MAY IT BE TRULY BLESSED!