With Easter being just short of a week a way, I think I'm overdue for a Round-up, remember
last
year's?-- that one actually has a TON of fun & great ideas too, focusing more on DIY projects/food based on the WHOLE reason of this celebration, Jesus, so be sure to check it out
here
as well.
Here
is a recipe I posted last Easter for a delicious & healthier
Carrot Cake
that will definitely impress. Also & more imprtantly last year I shared a two-part series of a complete scripture sharing the story of
Jesus' Crucifixion
&
Resurrection
, great reminder to remember the sweet & incredible sacrifice of our loving Father in Heaven.
The true meaning of Easter is often forgotten a midst all the fun spring colors, eggs, & bunnies, which are fine of course. But when we neglect the truth we lose sight of our Savior, so let's make sure to put HIM first & then enjoy all the other little things to celebrate the fulfillment of HIS promise.

1. Decorated Berry Baskets
These are a great way to re-use those abundant berry baskets we get when we buy all those beautiful berries, so put them to good use & create a fun little treat for the kids & adjusting each basket to their character. Tutorial can be found
here.

2. Classic Child's Easter Basket
The classic Easter basket is always filled with in my opinion WAY too much candy & silly unnecessary items, Martha Stuarts lists some creative & fun ways to spruce up your average gift basket. Filling it with sweet books such as
The Tale of Three Trees
or
The Velveteen Rabbit
, or precious stuffed animals, little treats here & there,tea party theme, or garden, & of course some sweet details of personalizing. Also,
here
is a link that has Top 50 Easter Basket Gift Ideas that don't just include sugar.
3. Easter Game: Egg Bocce
How the game works: In this version of the classic Italian lawn-bowling game, the object is to see which player can get their egg closest to the "pallino," or in this case, a plain white egg. Each kid should get two hard-boiled eggs that are the same color. To begin the game, one player throws the pallino underhand across the yard. Then that same player rolls or tosses one of his colored eggs in order to get as close as possible to the pallino. From the same starting point, the other players each take a turn, tossing one of their colored eggs toward the pallino as well. When all the kids have gone once, everyone gets to try again, this time with his or her second egg. Players can use their eggs to knock away the other kids' eggs -- moving them farther from the pallino -- or to edge their own first egg closer. After all the players are finished, measure the distance of the eggs from the pallino to see which one is closest to it. If there is a tie, the player whose egg is in the best condition is the winner. -- Have fun!
4. Paper-Napkin Decoupage Eggs
Tutorial explains
here
how to create these lovely beauties, using hallow eggs, but creates such a delicate & stunning decor.

5. Nail Polish Marbled Eggs Tutorial
You may have seen that tutorial of how to create marbled nails, well why not apply it to your Easter eggs (probably avoid eating them...) but aren't they so fun & stunning!? Check out how to
here
.

6. Natural Food-based Easter Egg Dyes
For all of you folks who want to avoid chemicals and such, here is a great demonstration of how to dye your Easter eggs & cloth even naturally using produce to achieve those favored Spring time colors. You can find out directly how to
here
.
7. DIY String Basket
I love these string baskets, using any string you have on hand even creates such a cute decor piece or lovely gift-- make in different sizes even to display in your home. Use it as a Easter basket even, the possibilities are grand, you will be surprised how easy & inexpensive it is to do this little gem yourself, find the directions
here
.
8. Hot Cross Pancakes by Joy the Baker
No time to make your own Hot Cross buns this Easter, well here is an equally delicious & fun way to serve breakfast to your loved ones this year, Hot Cross Pancakes will do the trick & who knows might even become a tradition, enjoy! Recipe
here
.
9. Guacamole Deviled Eggs
Well these are a perfect appetizer or brunch addition to any family gathering, a little twist to the original dish, but in my opinion a better one. Everyone will be rushing to get there fingers on one of these flavorful, delicious, &
eggcellent
treat-- find the recipe
here
.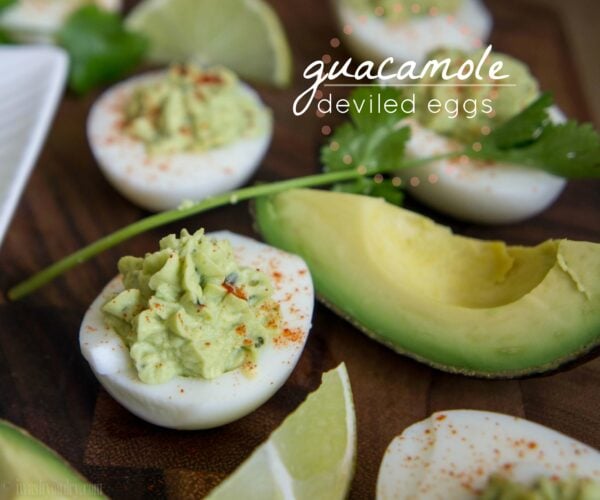 10. 23 Easter Printables
Here is a great & exciting list of fun ways to spruce up your Easter goodies or add cute little decor to you celebration. Check them out
here
.
An another note, we are on Easter break from schools, so this week the hubby & I are actually taking a little vacation to Cabo for a few days, it could not have come at a better time, we are so excited to get some time to spend with each other, relax, and just enjoy this time we have in Mexico. May your Easter be so blessed, but remember He is RISEN!